He's Among The 50 Ninjas With The Highest Rank In Ninjutsu
Jake Sharpstone and Grandmaster Masaaki Hatsumi [SWNS]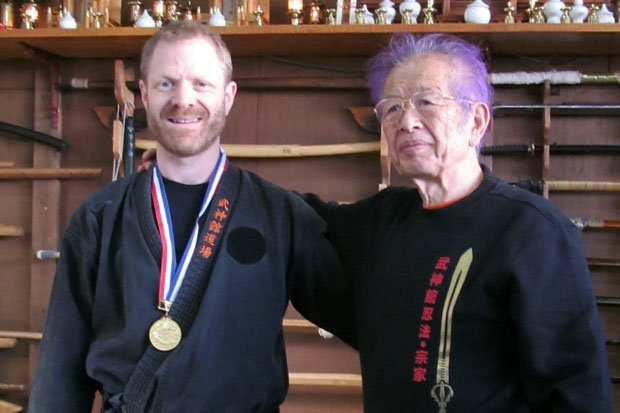 Jake Sharpstone was recently awarded the highest rank in Ninjutsu (Bujinkan), a rank that only 50 people around the world have been able to attain. Sharpstone began his training in Bujinkan Ninjutsu at 11 years old and still trains with real weapons on a daily basis.
The 48 year-old returned to Sussex (UK) from Japan weeks ago after being awarded 15th Dan by Masaaki Hatsumi, grand master of Bujinkan Ninjutsu. He presently runs the  Bujinkan Brighton dojo and runs an LED lighting company full-time.
Here's a quote by Jake Sharpstone:
We learn techniques demonstrated by the grandmaster in a careful and relaxed manner so they become absorbed into our bodies and become natural.

But most important is to have a good heart which benefits mankind.
Source: Metro