In the past weeks, I have posted more articles and news stories on Way Of Ninja. I hope to continue to do this despite lacking time. The military takes up most of my time.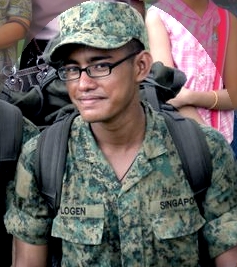 Here's a picture of me taken after the graduation parade for Basic Military Training last year; the graduating recruits had marched 24km overnight carrying a rifle and heavy fieldpack before participating in the parade.
As the founder and fellow member of the Way Of Ninja community, I wish to have an honest interaction with fellow members and readers. I want to respond more to your queries. And I want you all to garner support from each other, because we are a community. Way Of Ninja is our community.
Therefore, the new social network are under works to be launched soon. I will be sacrificing some time from my Christmas and new year break to work on this.
In the mean time, readers and members who wish to contact me should email me (logen [@] wayofninja [.] com). For less urgent matters, please leave a relevant comment on the entries and discuss with fellow readers. And if you find any of the articles interesting or useful, please 'like' or tweet the article.
Remember, we are a community of ninja, parkour and martial arts enthusiasts/practitioners.
Season's greetings and happy new year in advance.
Logen