Have you been working on your goals and resolutions for the past three months into 2015?
Are you guilty of procrastination?
Or perhaps you've had some setbacks?
Whatever the case, join us for the Forgotten Goals & Resolutions 30-day Challenge, which was first held last year at Ando Mierzwa's suggestion.
How does this work?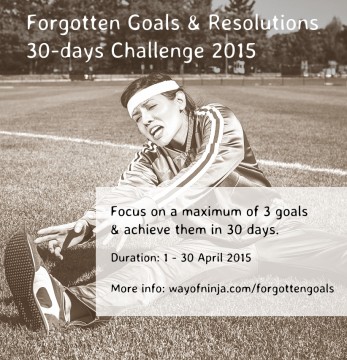 Challengers will pick a maximum of three small goals (or progression steps of larger goals) to focus on for thirty days, with the objective of achieving them by the last day. Failure to achieve progress based on your own benchmarks may result in a penalty. Muahaha!
So, pick goals that are achievable in thirty days, or break down existing goals into smaller progression goals, for success. We begin on April 1 – No! Not an April Fool's joke!
If you're ready to make your resolutions a reality, continue on to read the challenge details. If you have doubts about achieving your goals in thirty days, read the FAQ.