Boxing King is a Muay Thai gym that caters to recreational practitioners – people who train to keep fit. They are not a fighters gym. In fact, they have Crossfit as well.
What's great about them is their commitment to making the place friendly to women, as well as beginners. Moreover, their convenient location draws in professionals, uni students, and local celebs.
Here's a summarized scorecard of Boxing King at Siam. The detailed review can be found after that and is divided into sections.
Boxing King is great for recreational practitioners & beginners in Muay Thai. It was founded in 2014 as a less intimidating training alternative for women.
Continue on for the full review… or book a class at Boxing King.
Brief History of Boxing King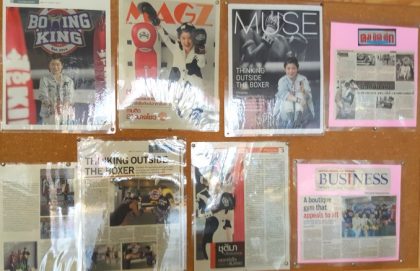 Boxing King Muay Thai was established in 2014 by Chutima Pruangmethangkul.
The founder, a famous female entrepreneur, wanted to create a gym where women felt comfortable learning Muay Thai. After all, many women felt intimidated by the traditional male-dominated Thai boxing gyms.
Hence, to make Boxing King feel welcoming, she insisted that the trainers wear pink Muay Thai gear. They reluctantly complied.
They later warmed up to the idea when they saw how well it worked. The colour had a psychological effect on its patrons.
How to Get There?
When you leave the station, pick the exit that leads you to Siam Square One shopping mall. Do not enter the mall. Instead, take the escalator to the ground level.
Once you reach ground level, face the mall, and turn to your right.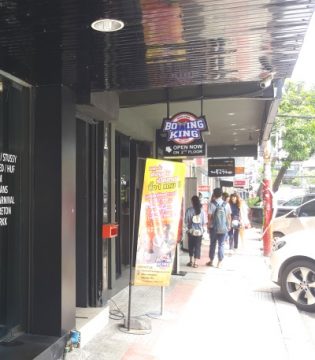 Walk straight down for roughly 150 metres toward Siam Square soi 1 (i.e. Siam Square lane 1). At the opening of Siam Square soi 1, you'll see Siam Discovery shopping mall across the road on your right.
Turn left into the lane and continue straight down for 50 metres.
If you see Scala Theatre on your right, you are going the correct way. You will see a few signs that indicate the way to Boxing King.
Take the stairs up to reach there.
Use Google maps with GPS for better direction. Here's Boxing King's Facebook page; their website isn't working. For class bookings, I recommend doing it via Klook (just like I did). Here's Boxing King's listing on Klook.
Training Experience at Boxing King at Siam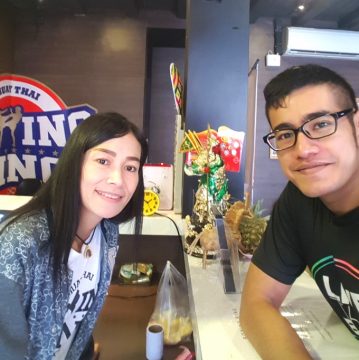 After informing the counter of my booking (via Klook), I plopped down the bench and tried to ease my anxiety.
This was my first attempt at Muay Thai, and I was about to train in an unfamiliar environment abroad. Moreover, it was the first time since my injury that I'd be doing martial arts.
That said, I didn't have to do much about the anxiety due to what happened in the restroom…
Someone fell bare-ass onto me when pulling up his shorts. It was awkward enough that it got rid of my anxious state of mind. And, that guy looked suspiciously familiar – like I've seen him in some magazine or poster in Thailand.
When it was 10 am, I made my way up to the fourth floor. Since I was the only person there, the trainer began what was supposed to be a group class.
Warm-Up & Hand Wrap
"Okay. Run."
My trainer in hot pink pointed at a small area of space. I stared at it dumbfounded.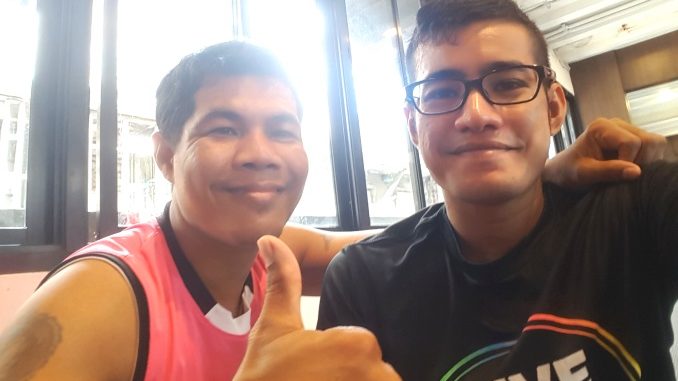 He wanted me to run in circles in an area that couldn't be more than 10 by 20 metres (11 by 21 yards). And, I did.
I would come to realize that this was the norm at other gyms. It didn't matter that the space was tiny. The running was just to raise your heart rate.
After that, the trainer helped me with my hand wraps. That was when three girls joined the class. Together, we continued the rest of the warm-up.
Technique Demonstration & Padwork Combos
Standing in front of the mirrors, the trainer demonstrated various strikes and kicks. With barely any English, he gestured for us to mirror him.
Communicating with him was no problem though. After all, we were training in Muay Thai; not trying to learn Calculus in Thai.
Shortly after drilling us on basics (and shadow boxing), we did a few rounds of pad work. It was during this time that things got a little strange.
Where the girls had to do 20 sit-ups before striking the pads, I was told to do fifty. And, instead of taking a break between combos, I was the only one that had to do more sit-ups.
Why?
It soon hit me that the trainer was varying the intensity for each of us. Since the girls had lower stamina, they didn't have to do sit-ups during their breaks.
Ending with Conditioning, Stretching and Cool Down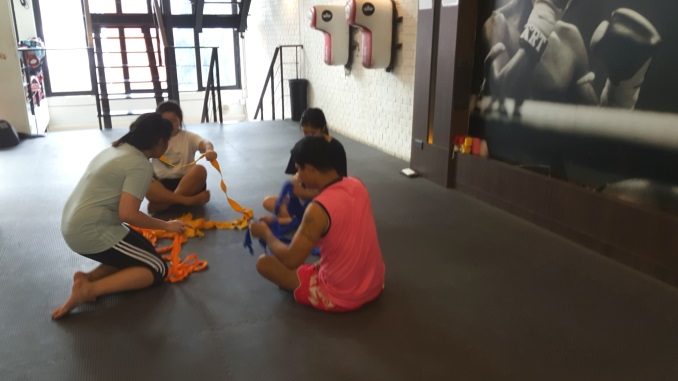 The 1.5-hour session ended after some conditioning drills, a cooldown, and stretches. While the session wasn't as intense as my other experiences, the girls were exhausted.
That's why the intensity may be just right for complete beginners who aren't as active in their daily life.
Vibe, Facilities & Trainers – Summary of Assessment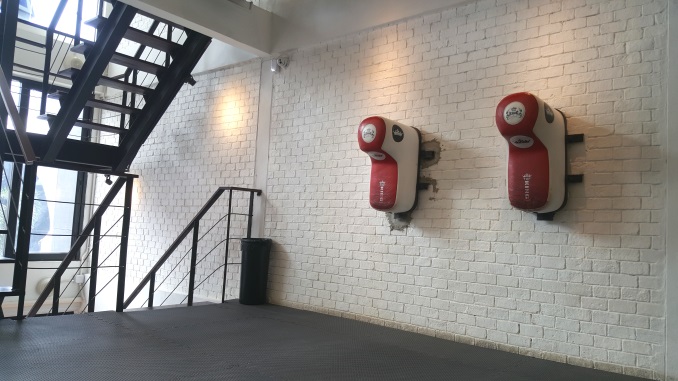 Vibe:
Welcoming and friendly to people of all levels
Child-friendly
Less intimidating for beginners
Facilities:
Fully air-conditioned
Three storeys (two floors of training area)
Clean gym mats, sandbags, and pads
Clean toilets with showers
Brightly-lit locker area within the restroom
Trainer:
Able to speak a little English
No problems with communication and teaching
Adjusts intensity to cater to each student
Corrects stance, coordination and technique issues
Opening Hours & Class Timings
Opening hours: 10:00 to 22:00
Class timings: 9:00am, 10:30am, 12:00pm, 1:30pm, 3:00pm, 4:30pm, 6:00pm, 7:30pm
Cost:
Note: It is slightly cheaper to book a class via Klook. You are allowed to cancel your booking without penalty if you give at least 24 hours notice. Also, pick the 6-person class option.
Pros & Cons – What I Liked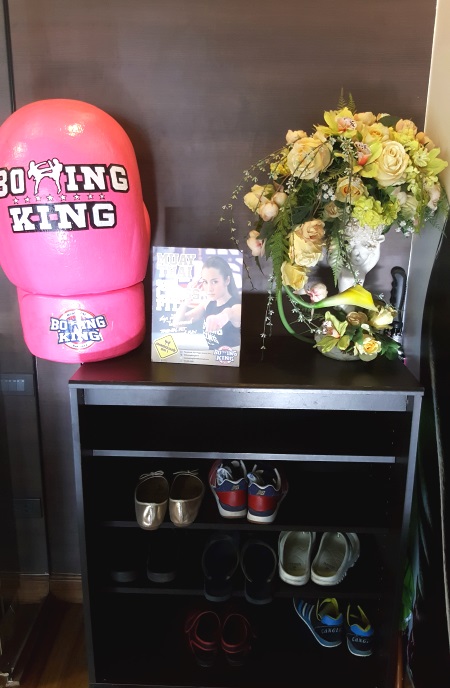 Pros of Training at Boxing King
So, here are some things I liked about the trainer. class, and facilities.
Attention to Each Individual's Stamina and physique
Among the three sixteen-year-old girls, one had great technique and coordination. The trainer intensified her pad work sessions. And, he made her combos slightly complex.
Furthermore, the trainer was attentive to each person's stamina. He stopped my sit-ups in one of the breaks when I was visibly exhausted.
Correcting Errors in Strikes and Kicks
During my pad work session, I was terribly uncoordinated. Perhaps… this was due to my inexperience in striking (save for my poor experience with Taekwondo when I was seven).
Yet, the trainer corrected my jabs, hooks and side kicks. He made sure that I created more torsion with my hips when performing a side kick.
This is unlike many fitness-focused gyms outside of Thailand. The trainer corrected us whenever we performed the strikes, kicks, and blocks incorrectly.
Class Limit on Number of Students
Unlike many gyms, Boxing King restricts the number of people per group class to a maximum of six. This allows the trainer to give you more attention. This is definitely a plus for beginners.
Clean & Hygienic
The training area, restroom, and lockers are kept clean and brightly lit. This is a contrast from many rural fighters gyms.
Welcoming vibe
The place is especially welcoming to beginners and anyone intimidated by a traditional Muay Thai gym. The founder has made it especially women-friendly as well.
One reason I chose this as my first Muay Thai gym was its friendliness to anxious beginners.
Cons of Training at Boxing King
Not a Fighters Gym
Why this obsession with fighters gyms?
Muay Thai is a contact sport that is widely watched throughout the kingdom. To experience how actual fighters train (or at least witness it), you have to go to a fighters gym. Recreational gyms that have a great fighter's program would also be good for independent fighters.
However, Boxing King's key focus is on people who do Muay Thai for fitness and recreation.
Marketed for fitness rather than skill
As mentioned, Boxing King markets itself to people who are into fitness. So, I'm unsure if they train intermediate students in sparring. Sparring develops distance, rhythm, and clinch application. Without it, you won't properly know how to fight or defend effectively.
This, of course, is not an issue for recreational fitness practitioners. Even beginners can get away with just pad work and shadow boxing. But, at a later stage, you will have to spar and practice clinching.
Who Should (and Shouldn't) Train at Boxing King?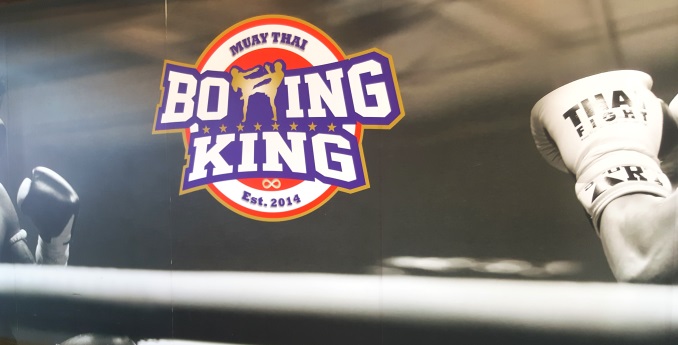 There are two compelling reasons to train at Boxing King (Siam Square soi 1):
Location: It's near Siam BTS Skytrain station, within Bangkok's city centre. You can avoid peak hour traffic by taking the train.
Training environment: The environment is a plus for people who get anxious when trying a new sport.
So, if you're on a tight schedule or on a short trip to Bangkok, consider training at Boxing King. The commuting time is negligible.
Nevertheless, Boxing King caters to recreational practitioners of Muay Thai. Fighters should look elsewhere to train.
Location aside, these are some specific groups of people who would find this gym suitable:
Complete Beginners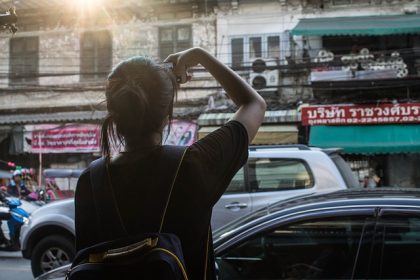 If you're a complete beginner in Muay Thai (and want a taste of how it's like) Boxing King is perfect for you. Likewise, if you're working in Bangkok's city centre and want to do Muay Thai for recreation.
However, if you're looking for long-term serious training, you should train elsewhere.
People with Training Anxiety
Do you easily get anxious (or intimidated) in a new training environment?
Boxing King and its trainers are very approachable. The training environment makes your learning a lot more conducive.
One of the reasons I chose this as my first gym to visit was training anxiety. I needed to know what to expect from a typical class in Thailand.
Leisure Travellers
Boxing King is suitable for travellers who want a side activity in their itinerary. It's certainly not a gym I'd fly all the way to Bangkok for as a martial artist.
But, for leisure travellers, this is a great option.
People travelling with Family and Friends
Having travelled with family and friends, I know how hard it is to convince them to do physical activity. It's especially tough if they're all sedentary in their daily lives.
That's why you'd have a much greater chance of getting them to do Muay Thai if you pick Boxing King.
Location-wise, it is convenient to get to. This eliminates complaints about the time needed to get there. Program-wise, Boxing King's beginner class is good enough to keep everyone engaged.
And, if you have kids in your group, this gym is awesome for them.
Now, what about you (if you're a serious practitioner)?
Talk to the trainer and give him/her some information about your training background. These trainers are/were fighters. They can definitely up the intensity and technicality for you.
Who should train elsewhere?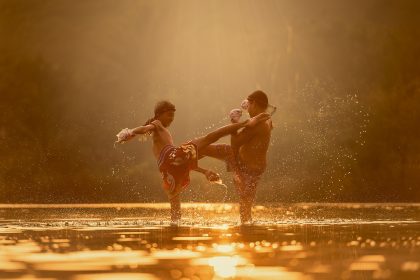 If you're visiting Bangkok primarily for Muay Thai, give Boxing King a miss.
Assuming you're experienced, go to a fighters gym instead. Or, pick a recreational gym that's known for its fighters program.
Serious beginners who can devote at least a week to training should also train elsewhere. This includes martial artists who don't practice Muay Thai and want to train for the skill (not fitness).
Nonetheless, independent fighters can drop in if they need training facilities in Bangkok's city centre.
Bottomline
Boxing King is great for recreational practitioners & beginners in Muay Thai. It was founded in 2014 as a less intimidating training alternative for women.
Boxing King Muay Thai is a great place to train due to its location and welcoming environment. The gym is clean, and the trainer adjusts training to your capabilities.
Because it's in the shopping district (and near a university), you'll encounter Thai celebs and uni students there. Not to forget… working professionals as well.
Again, I recommend this gym for recreational beginners and people who can't travel far out of the city.
Experience Muay Thai in Thailand. Check out budget listings via Klook, a reputable regional booking engine.