Want to discover and experience the truth about the ninja, backed by actual academic research and science?
Head down to the National Museum of Emerging Science and Innovation (Miraikan) in Tokyo, Japan for the special exhibition: "The NINJA – who were they?".
What can you expect from Miraikan's Ninja Exhibit?
For a limited time, between 2 July to 10 October this year, explore all things ninja at this exhibition – everything from the shinobi's skills to their diverse knowledge. This exhibition seeks to demonstrate the ninja's abilities and also shows the latest ninja research from Mie University. Exhibits are offered in both Japanese and English.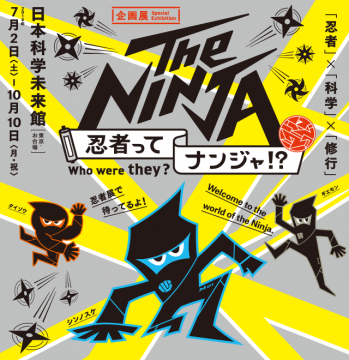 Typical of special exhibitions (e.g. Pokémon Lab: You do it! You discover!) at the Miraikan, expect display and exhibits that involve immersive technologies and interactive activities that help you experience how it was like to be a ninja.
How is this different from other ninja experiences in Japan?
What makes The NINJA – who were they? different from other Japanese ninja experiences, is its emphasis on rigorous academic research. After all, this is a cooperative effort that includes Mie University, the only university heavily involved in academic research about ninja and ninjutsu.
Information about the ninja is often tainted by pre-modern Japanese pop culture literature. Having Mie University's research, gives greater assurance that the ninja facts you learn have passed academic scrutiny.
Access Permanent Exhibits
You are free to spend the rest of your day viewing the permanent exhibits at the museum; your admission ticket gives you access to the entire National Museum of Emerging Science and Innovation (Miraikan).
The below photos are from the Miraikan's website and gives you an idea of what their permanent exhibit features.
Here are the details for the ninja special exhibition…
"The NINJA – who were they?" Details
Name of Exhibition
The NINJA – Who Were They?
Date

• 2 July – 10 October 2016

Closed on Tuesdays: 5 & 12 July; 6, 13, 20 & 27 September; 4 October


Venue

• Special Exhibition Zone, 1st floor, Miraikan (The National Museum of Emerging Science and Innovation), Tokyo, Japan
• Click here for directions


Opening Hours

• 10am – 5pm (entrance closes 30 mins before actual closing time)


Admission Fees

• Adults: 1,600 yen (approx. US$14.50)
• Junior – Elementary school to 18 years old: 1,000 yen (900 yen on Saturdays)
• Child (Preschoolers over 3 years old): 500 yen
• 2 years old and under: free admission

Admission is valid for permanent exhibitions.
Free admission for those in possession of a Disability Book with one paying visitor


Organisers

• National Museum of Emerging Science and Innovation (Miraikan)
• The Asahi Shimbun
• Fuji Television Network


Special cooperation

• Mie University


Certified by

• Japan Ninja Council


Cooperation

• Iga Ueno Tourist Association
• Amako Ltd
• NINJA JAPAN


Supported by

• Ministry of Foreign Affairs of Japan
• Ministry of Education, Culture, Sports, Science and Technology
• Ministry of Economy, Trade and Industry
• Japan Tourism Agency
• TOKYO WATERFRONT AREA RAPID TRANSIT


Tickets can be bought at the Miraikan, over the counter at 7-Eleven and Family Mart (in Japan) or in advance through Fuji TV Direct and PIA Corporation.
Sources: Official exhibition website, Miraikan (National Museum of Emerging Science and Innovation)