Curious about the army fitness tests of other countries? What are the fitness requirements like for foreign soldiers and how do they compare to yours? Explore this list of army fitness tests from 26 countries — inside the continents of Asia, Australia, Africa, Europe, and the Americas.
Check out the overview, which summarises the common requirements, compares the differences, and highlights strange test requirements. Otherwise use the table of contents to skip to the country you're most interested in.
Army Fitness Tests Overview: Observations & Comparisons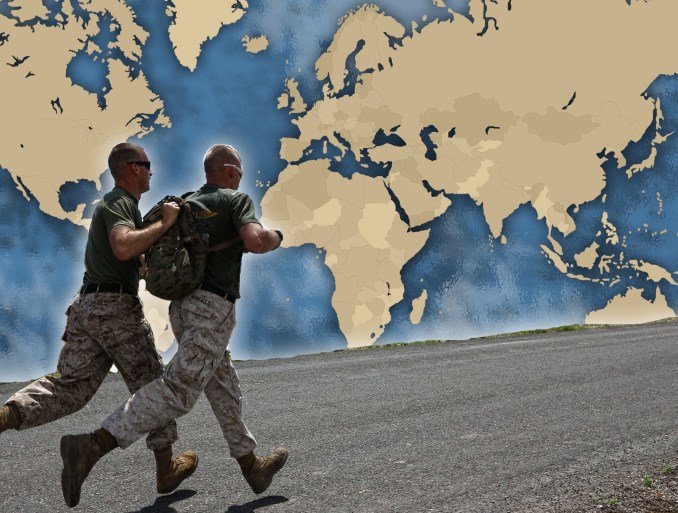 Soldiers are the modern version of historical ninja and samurai. They have to be fit for physically-demanding tasks and warfare. That is why every army has fitness requirements for both potential recruits and active-duty soldiers.
Where available, I've listed army fitness tests that are conducted for active-duty soldiers. Tests for potential recruits are generally lower in standards and would make the comparison unfair. Also, I've prioritised fitness tests for the average soldier, instead of tests for special forces and specific units.
2 Test Types: Army task-simulations vs Conventional exercises
There seem to be two types of army fitness tests. One evaluates a soldier's fitness by simulating common tasks performed in the line of active duty. The other assess a soldier through common endurance, aerobic and strength exercises.
Examples of task-simulation include loading a weighted ammo box or carrying Jerry cans over specific distances. Both the Canadian and UK army fitness tests are direct evaluations of a soldier's physical capability. The US Army's new test (OPAT) is a hybrid of the two.
An example of endurance, aerobic and strength exercises are push ups, pull ups, crunches and running.
Task simulation tests are less common, as they are a new development.
3 Common Exercises in Most Conventional Fitness Tests (and others)
Many army fitness tests include three standard components:
push ups
situps (or crunches)
run.
These exercises evaluate arm strength, core strength and endurance (or aerobic fitness).
The countries that use these three exercises as test components are USA, Singapore, Philippines, Australia, China, Ireland, Japan, Luxembourg, Italy, Netherlands, New Zealand, Norway, Poland, South Africa, South Korea, Taiwan and Sweden.
There are, of course, more components than these three exercises.
Beep Test and Shuttle Run
Another common component in several countries is the beep test or shuttle run. These are meant to test progressive endurance, reaction time and coordination.
Sense of Balance
Out of all the countries, India and Switzerland test soldiers for their sense of balance. The Swiss balance component is especially intriguing (refer to Switzerland, under the guidelines tab).
Ergometer Gym Bicycle
Finally, several European countries (especially Nordic ones) include Ergometer test as a test component. This test assesses a soldier's oxygen uptake capacity.
How hard is the army fitness test?
It depends. Most army tests are comparable.
Some countries use a pass-or-fail standard that only requires you to perform a bare minimum number of exercise reps. These are generally easier to pass.
Others divide passes into different grades. Needless to say, getting an excellent grade is tougher.
Even though – for ego's sake – it's tempting to compare armies based on their fitness requirements, it paints a really flawed comparison.
For instance, the Italian Army's recruitment standards are easy to meet. But there is no doubt that once a recruit becomes a soldier, his/her fitness level would rise exponentially.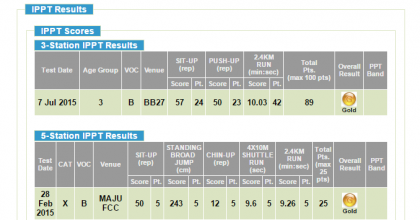 Lastly, several nations use citizen militias. Because of mandatory service for everyone, passing standards are understandably lower.
Experience with Singapore's army fitness test
Because I am part of the army reserve, I have to take a fitness test annually. I've been awarded Gold for my past two tests and found it easy to pass because I cross-train.
However, the old test system (with 6 test components) was tough even for me. My weakness was in standing broad jumps.
Note: I have yet to take 2016's test due to my shoulder injury.
Here are the army fitness tests used of 26 nations in the world. Let me know how you think you'd fare?
26 Countries' Army Fitness Tests & Requirements
1

Australia - Basic Fitness Assessment
The Australian Defence Force (ADF) uses various fitness assessments to measure its soldiers' physical fitness. The most relevant one is the Basic Fitness Assessment (BFA). Active personnel take this test every 6 months.
The BFA's scoring system is simple – you either pass or fail. Passes are NOT divided into grade classes such as Gold, Silver, Bronze.
The Belgian Army uses a three-component fitness test for potential recruits. I have no further information on annual fitness tests for active-duty soldiers.
3

Canada - FORCE Evaluation
The Fitness for Operational Requirements of CF Employment (FORCE) assesses the Canadian Forces' operational fitness. It partly simulates common army duties, and replaces the CF EXPRES Test.
The People's Republic of China assesses its soldiers' fitness with the People's Liberation Army's Soldier Physical Fitness Standards (中国人民解放军军人体能标准). This test applies to conventional soldiers, and not personnel from special units.
According to secondary sources, China updated the standards at the end of 2006. So, the information here may be outdated.
5

Denmark - Core Test & Danish Armed Forces Physical Fitness Test
Compared to other Nordic armies, the Royal Danish Army has a greater number of fitness test components. Two tests are used to measure their soldiers' physical fitness – the Core Test and the Danish Armed Forces Physical Test (DAFPT).
Soldiers in the Army need to complete all test components in the DAFPT; Air Force and Navy soldiers are exempt from Block D tests of the DAFPT (refer to the score tab to gain an understanding).
Scores are categorized into various grades.
The Finnish Defence Forces (FDF) holds a compulsory annual fitness test for all its professional soldiers. The scores are graded based on the soldier's level of fitness.
7

Germany - Basis Fitness Test
The German Army (Deutsches Heer) holds the Basis (Basic) Fitness Test to assess the physical fitness of its soldiers. This test uses a scoring matrix to distinguish quality of passes.
8

India - Physical Fitness Test (PFT)
The Indian Army's Physical Fitness Test (PFT) assess potential recruits' fitness standards. However, I can't find further information for active personnel.
The PFT distinguishes recruits's fitness standards into two groups – Group 1 being better than Group 2.
9

Republic of Ireland - Fitness Test
What is the Irish Army fitness test?
The Irish Defense Forces (of the Republic of Ireland) uses a pass-or-fail-only standard, with no scores to distinguish passes. Only the running standards differ between male and female soldiers.
The Israel Defense Forces (IDF) uses the Bar Or Test (בוחן בר-אור) to assess the fitness of its soldiers. The test was designed by Professor Oded Bar Or, which explains the test's name.
The Japan Self-Defense Forces (JSDF) uses the following fitness test (自衛隊体力検定) to measure their soldiers' fitness standards. Source data was last updated in 2007.
Since the Italian Army's (Esercito Italiano's) annual fitness test details cannot be found, the recruitment fitness assessment is included instead. This is a straightforward pass-or-fail test.
The physical fitness test of the Luxembourg Army has six components and is assumed to be a recruitment standard.
The Royal Netherlands Army conducts a mandatory fitness test – Defensie Conditie Proef (DCP). This is an annual fitness test that was first implemented in 2009.
15

New Zealand - Ongoing Fitness Requirement
The New Zealand Army (NZ Army) has several fitness testing requirements. The one most relevant to this list is the Ongoing Fitness Requirement (OFR), since its a semi-annual army fitness test.
The Norwegian Armed Forces grades its physical fitness standards on a scale of 0 to 6. The current test is slated to be replaced in January 2017. Refer to the tab: Others – New Test 2017.
17

Philipines - Army Physical Fitness Test
The Army Physical Fitness Test components and standards for the Philippines Army may not be accurate. I have inferred it based on the year 2008 standards and other updated news sources.
The old test is included in the Others – Old Test tab below.
The Polish Land Forces (Wojska Lądowe) uses the following test to evaluate the fitness standard of its soldiers.
19

Singapore - Individual Physical Proficiency Test (IPPT)
All active and reservist soldiers of the Singapore Armed Forces (SAF) are required to take an annual fitness test known as the IPPT (Individual Physical Proficiency Test). The Singapore Police Force and Singapore Civil Defence also use the same test.
Your total score of all components would determine the class of award you qualify for: Gold, Silver or pass. If you fail, you have to attend remedial training.
The South African Defence Force's fitness test was retrieved from a University presentation and cross-referenced against a 2012 scholarly journal. However, the information is incomplete and may be outdated.
Similar to Singapore and Taiwan, all men in South Korea undergo mandatory military service with the Republic of Korea Army (ROKA/대한민국 육군/大韓民國 陸軍).
In addition, they have to take an annual fitness test (aka 체력검정 or 體力檢定), which is similar to the US Army APFT.
The Swedish Armed Forces (FM) holds all its soldiers to the standards of the following fitness test, which includes running while carrying fighting equipment.
23

Switzerland - Test de Fitness de l'Armée pour le recrutement (TFA)
The Test de Fitness de l'Armée pour le recrutement TFA evaluates the physical fitness standard of conscript soldiers in the Swiss Land Forces. It tests explosive strength, core strength, coordination ability and endurance.
The Republic of China, known better as Taiwan, has a conscript military similar to Singapore and South Korea. This is the fitness test their soldiers have to undergo.
25

United Kingdom - Annual Fitness Test (AFT)
The United Kingdom consists of four countries – England, Scotland, Wales, and Northern Ireland – all of which are protected by the British Army. So, what is the British Army fitness test?
Similar to Australia, the Annual Fitness Test (AFT) of the British Army uses a pass-or-fail standard, with no distinction in scores. However, the fitness test components seem to be specific to common military duties, including loading Jerry cans and ammo kits into vehicles.
26

United States - Army Physical Fitness Test (APFT)
What is the US army fitness test? The US Army uses the APFT (Army Physical Fitness Test) as a general standard to ascertain a soldier's fitness level. While other service arms (e.g. Marines) use different tests, it is out of scope in this list.
Limitations of Research and Information
Compiling this list of army fitness tests was challenging for a few reasons.
Information not readily available to public
First of all, some countries do not share military information with the public. Even if they did, the information would be in languages that are foreign to me. This explains why I limited the number of countries to 26 and had to rely on secondary research to infer data of some army fitness tests.
Complicated Army Fitness Test Schemes
Second, armies around the world use varying standards and methods to test their soldiers' fitness levels. Some use different tests for different service arms. To keep it simple, I listed only the fitness standards applicable to the general soldier population. Specific army physical tests for special units were omitted.
Annual vs Recruitment test
Third, many armies have different standards for pre-entry recruits and existing soldiers. For obvious reasons, this list prioritises the annual army fitness tests (for active soldiers) over the lower recruitment standards (for potential recruits). Recruitment tests were included only where a country's annual fitness test was not found.
Information updates delayed
Fourth, updates on army fitness tests are not communicated in a timely manner. Some tests in this list may be outdated. Where this is true, I have included a note to convey that.
Exclusion of combat fighting, warfare conditioning and obstacle courses
Fifth, a few countries' fitness assessments include obstacle courses and combat fighting. I omitted them as they were more of a technical functional test than fitness evaluation. I also wanted a fair comparison to the many countries that separate their fitness tests and obstacle course assessments.
If you have sources to the army fitness tests of other countries, or would like to correct any mistakes made in the list, please contact me via this form or by leave a comment.