You want to become a Bar Brother (street workout athlete)… but where do you even start? How do you train for muscle ups and other callisthenics feats? Will Bar Brothers The System work as it claims?
Find out if this callisthenics training program by the Bar Brothers themselves is right for you. Most importantly, we'll examine several factors to decide if Bar Brothers The System is realistic in its claims or pure hype…
Unlike many others, I'm qualified to review this program because:
I've purchased and checked out Bar Brothers The System
I trained in bar calisthenics before my injury
I've gathered feedback from other trainees of the Bar Brothers System
This is a contrast from numerous other fake reviews that don't know what they are talking about.
Disclosure: Even though this review contains affiliate links, be assured that I've carefully assessed the program based on my past experiences as a street workout enthusiast.
1. What is Bar Brothers – The System?
Bar Brothers – The System
Bar Brothers -The System is a step-by-step calisthenics training program that spans 12 weeks. It's designed to help you get the mindset and physical strength to become a bar brother (and street workout athlete).
This is also the official training program of the Bar Brothers, created by its founders, Lazar Novovic and Dusan Djolevic.
Bar Brothers System builds the foundation for street workout beginners to progress into calisthenics freestyle movements. Think creative combos of handstands, human flags, muscle ups and more.
As a positive "side-effect" from training, you'll also get a better physique by the end of 12-weeks.
Origins of Bar Brothers System – Lazar and Dusan
Lazar and Dusan are among the top calisthenics experts in the fitness world. They propelled the Bar Brothers movement – "to become the best version of yourself" – into a worldwide phenomenon.
In the process, the duo helped transform average people into amazing street workout athletes through bodyweight training.
Naturally, countless people have asked them about their unique training approach, hoping to replicate their results in strength feats and physique. This prompted them to create the Bar Brothers System, which details the exact training mindset, eating habits and training methodology they use.
Dusan's Story on the Bar Brothers Movement & The System
2. Why I Bought Bar Brothers – The System?
Calisthenics and street workouts were already part of my cross-training routine, and I was compelled to buy the training program for three reasons:
1. Tried-and-tested training methodology
I wanted to learn about Lazar's and Dusan's tried-and-tested training methodology.
The duo are founders of one of the largest calisthenics movement. They have also helped average people become calisthenics athletes with phenomenal freestyle strength feats.
2. Figure out what went wrong in my own training
There were problems in my own cross-training routine that caused a tendon overuse injury (affecting my wrist, elbows and shoulders – both right and left) and a rotator cuff tear. I wanted a comprehensive reference guide to figure out what I was doing wrong.
3. Discounted price
The discounted price was within my budget.
3. What Do You Get from Bar Brothers  – The System? Is It Useful?
How is the training program delivered?
Bar Brothers System is delivered via an online platform loaded with video tutorials, instructions, and insights on bar calisthenics. Navigating the platform is very straightforward.
When you first log in, you'll be redirected to a list of training programs (as shown below). I'm only enrolled in the first one (The System) and opted to upgrade later.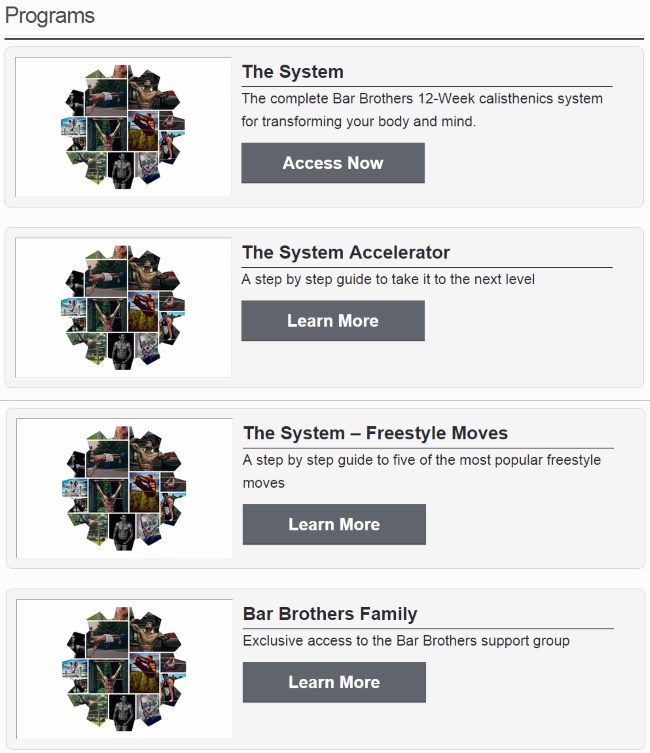 After clicking "Access Now", you'll be directed to The System training program (as shown below). It's divided into 18 sections of videos and resource downloads.
What is the training program and workout structure like?
The training is divided into three phases. Each phase lasts for four weeks and is a step up in the level of difficulty.
You'll have to train six days each week, devoting no more than one hour per session.
To make such rigorous training possible, the program uses a split-training format, where different areas of the body are targeted per session. The workout intensity also varies among sessions.
Training program's 18 sections (with an idea of what you will get)
Section
What does it show?
Introduction
Short welcome video by Lazar and Dusan.
What You Need
Tells you exactly what you need to complete the 12-week training successfully and achieve results – the rules, mindset, and equipment (basically your body and a bar).
Explanation of the program
Gives you an overview of the program in video and downloadable workout schedules.
Workout Advice
This is self-explanatory.
The System Nutrition
Provides rich insight into the Bar Brothers founders' nutrition habits and brainless homemade recipes for pre and post-workout shakes. Moreover, you learn basic body types and how to adjust nutrition and training for optimal results.
Week 1 to Week 12 sections
In week 1, you do a self-test and begin learning the correct way to warm-up and perform bodyweight exercises. There is a video for each day of training with words of motivation and concise instruction.
The rest of the 11 weeks' structure is similar.
The System Conclusion
Again, self-explanatory.
How Videos and Instructions are Displayed
Here's how the videos and information are displayed in each section.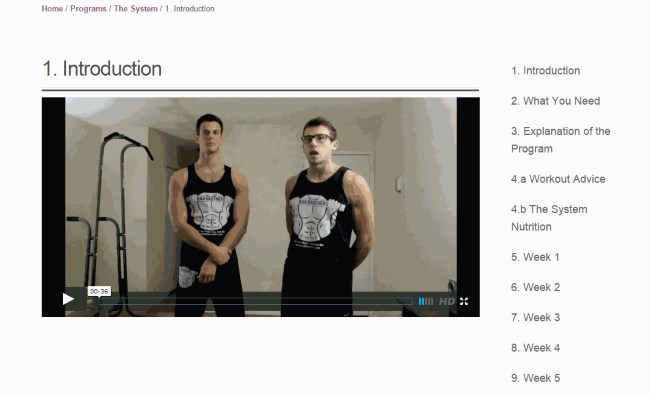 Because the program caters to people of all fitness and strength levels, Lazar and Dusan demonstrate the proper way to perform each exercise and point out common mistakes.
They also provide complete progression steps for an exercise. The progression steps allow you to perform an easier form of exercise at a lower level. This is helpful if you haven't built the proper strength and technique to perform an exercise in its regular form yet.
What I liked
I personally found their muscle-up tutorial to be among the most detailed among the many I've watched. And, I regret not watching this before attempting muscle-ups last month, which contributed to a long-term shoulder injury. I hadn't bought the program yet and was making many mistakes they've pointed out.
Overall, the training program is realistic when you consider how the workout program is structured and the 6-day-per-week time commitment. Needless to say, the program gets way more challenging once you get to the second and third phase.
4. How Much Is It? What Else Is Offered with the Training?
'The System' is the basic foundation of the entire series of Bar Brothers Systems, consisting of:
The System
The System Accelerator
The System – Freestyle Moves.
Lazar and Dusan originally priced The System at US$97. However, you can get it at a discounted price of US$47 right now.
The other two programs – Accelerator & Freestyle Moves – are higher-level training modules that you can buy at a discount right after getting The System. Alternatively, you can enable them later on (at the usual price).
Also, when getting the program, you'll be asked if you'd like to join their exclusive Facebook support group – Bar Brothers Family.
For myself, I declined the upgrade to Accelerator & Freestyle Moves because of my injury. I needed to take things slow. However, I did join their support group.
5. Pros & Cons
Pros – The awesome stuff about the program
Easy-to-navigate (on desktop, tablets, and smartphones)
With intuitive navigation, the online training platform is easy to use. What's most important though, is mobile-friendliness – you can access the videos on your smartphone when training outdoors.
No guesswork needed. No analysis-paralysis. Just follow the plan.
The System is fully guided with step-by-step instructions. Videos are action-oriented and to the point. Dusan and Lazar don't bombard you with unnecessary information and tell you only what you need to know, eliminating analysis paralysis. Just watch the short training video for that day, and get out to train.
Easy to Understand
As mentioned, the first five sections are mostly informational, ranging from advice on nutrition to training mindset. The founders explain everything in layman's terms, avoiding jargon. This makes it easy for beginners to understand.
Pep Talk from Dusan and Lazar
Since the founders have trained many people in the past, they can accurately anticipate the problem you'll likely face. That's why they include a motivational pep talk for each training week.
You will struggle by phase two of the program… but their words of motivation will make a difference as they strike the core of how you'll be feeling.
Fully-explained Tutorials
Every tutorial video comes with progressions for people of all levels of fitness and strength, demonstrating the correct technique, common mistakes and very useful tips to perform the exercise successfully.
Minimal Equipment Needed
Just your body, pull-up bars and parallel bars (easily found at outdoor parks).
Responsiveness of the Support Team
I have contacted the Bar Brothers support team for the training program and have gotten responses within 24 hours. With workout-related queries, I even got a reply from Dusan himself.
So, if you have a problem with the training program or technical issues, the support team can and will help very quickly.
Cons – The annoying things about the program
Needs internet connection
Because you will be outdoors for most training (pull-up and parallel bars), be prepared to use data on your mobile device if you ever need to refer to the videos when training.
However, you can work around this (if you have limited or no data) by preloading the videos on your device browser before heading out. Just remember to switch off wifi and data so that it doesn't auto-reload. Alternatively, jot down essential points on paper before heading out.
Time Commitment
You will need to devote close to an hour per session for six days each week. What do you expect out of an immersion program for becoming a street workout athlete?
6. Who Actively Trains in Bar Brothers – The System?
Based on Bar Brothers Family secret Facebook group, the majority of trainees are male and between the ages of 18 to 34.
BUT there are many exceptions and outliers…
The youngest person who actively posts his progress with the program is

14 years old

. There is an even younger trainee at 13 years old. Since this is a calisthenics program, there are no issues with them being too young. It's not going to affect growth.
The oldest trainee who has posted positive results is in his

late sixties

.
There are a few

Bar Sisters

in the program.
There are people from different

busy professions

– some of whom you'd think would have very little time to train but they made it work!
This all makes sense because the Bar Brothers movement has always been inclusive of anyone who has the will to train; to compete only with yourself; to be the best version of yourself.
7. Does It Work? People Who've Had Results with This Training
What The Program Claims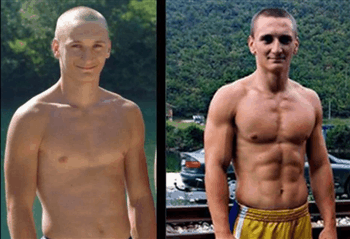 The System promises a vast difference in strength, ability, and physique by the end of 12 weeks. Needless to say, you have to stick to the workout and nutrition guidelines.
Before you begin, you have to take a strength evaluation test and photograph your physique. You'll have to do the same at the end. This allows you to compare your results and see the physical changes in your body.
But will it actually work?
Update: I found two people who recently completed The System – blurred screenshots below
Since Bar Brothers System was launched around July, it is difficult to find someone who completed the entire program. I'll, therefore, use three sources of proxy comparisons to judge if its claims on effectiveness for both ability and physique are realistic.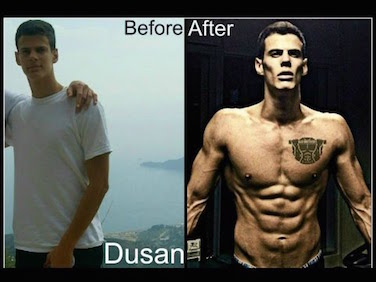 Source 1: Photos and videos of people who were instructed/mentored by Lazar and Dusan. This is a fair proxy for effectiveness if we consider that these people were (in a way) were 'guinea pigs' for the program. And the program mimics the founders' method of training.
Source 2: My experiences in a similar bar calisthenics program. This, while reasonable, is less reliable because I cross-train in many other activities.
Source 3: Results posted by trainees on Bar Brothers Family (the official support group for this program)
Source 1: Photos & Videos demonstrating ability and physique
Watch the 2012 video posted by Lazar. It shows the transformation of people who trained and learnt from them.
Source 2: Personal experience with a similar street workout program that I created for my own training
Before my shoulder injury, I trained 4 to 5 days each week, with each session lasting beyond an hour. My cross-training program also involved Aikido, running and a little parkour.
In as little as three weeks, my physique was noticeably different.
But, because of poor cross-training programming and bad street workout fundamentals in my own program, I got injured. Being impatient also didn't help.
So, while my physique had improved, my strength was improving only marginally through the accumulation of my mistakes.
Source 3: Results and posts by trainees on Bar Brothers Family
Because the content in the secret group doesn't belong to me (and for privacy purposes), I will not show actual photos or unblurred screenshots. Scanning through the group, I found trainees who've had noticeable progress in as little as three to four weeks.
These are posts by 2 different members within the last 48 hours who completed The System. To see the actual posts, get trial access to Bar Brothers Family.
Overall, this program works and is realistic in its claims. You will see noticeable progress in both physique and strength abilities.
However, you won't be able to perform muscle ups within 12-weeks if you are a complete beginner. Be realistic! You will get there faster than normal, but probably not within the time frame.
This is okay since the program does not claim to be a magic pill for street workout feats.
For greater assurance, the founders have put in place a 60-day money-back guarantee if it doesn't work for you. You don't have to explain why you want a full refund.
8. Is 'Bar Brothers – The System' Right for You?
Which do you want more – a better physique or street workout strength?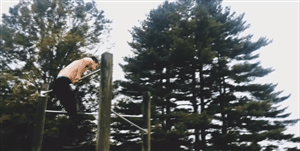 Yes. You can get both strength and physique with Bar Brothers System.
But if you solely want six-pack abs and an athletic physique (and don't care how you get there), you are better off with alternatives that will achieve similar results with less effort.
This is because you will likely drop out from the lack of passion.
You should only get Bar Brothers System if you want the abilities (including freestyle movements) and strength of a typical street workout athlete. It will get you ready to live the Bar Brothers way of life and give you confidence from overcoming the challenges. That is the key – the desire to live the bar brother lifestyle and have a really cool way to work out.
Will you make time for it? How much do you want to successfully complete the system?
Let's get these out of the way first
Are you

willing

to train six times per week (one hour each session)?
Are you

willing

to find a way to make it work?
If "no" – don't get this training program. If you aren't willing to make time for it, you are wasting your money. This program is not a magic pill.
What if time really is an issue?
In the same vein, if you've done your best to adjust your schedule but can only train for a few days a week, your results will likely be much slower.
I have asked Dusan if the program can be adjusted. My brief interpretation of his response is "no" and here's my guess as to why – improper adjustments will increase the chances of injury and kill the effectiveness of the program.
But here's my suggestion, and do this only if you truly are passionate about Street Workout, you can either:
Use this program as a reference guide because of all the top-class tutorials, tips and information
Or wait till your schedule gets better to start (but buy it soon to lock-in the discounted price)
9. Bottomline
Bar Brothers – The System is right for anyone who wants to get into the Bar Brothers movement or street workout lifestyle.
Complete beginners will benefit immensely from the progression-based tutorials. If you want to perform freestyle strength feats and gain the confidence from pushing the limits of your body, this program is for you.
If you have really no time but appreciate some proper guidance (and avoid an injury like mine) this program has good tutorials to refer to.
Physique comes as a "side-effect". Time constraints and willingness to commit are two important factors to attaining the results desired, and if you are serious about training, go for it. Anything less is a waste of time.