Before getting started on Parkour training, it's advisable to have a good pair of shoes. The ideal Parkour shoes should be light in weight, durable, have adequate cushioning, and provide good traction on a variety of surfaces.
The general rule to keep in mind is that the shoes should allow you to move as freely as you can, just like being bare-footed.
Light in weight
Shoes that are light-weight help when you're doing precision jumps and leaps. The shoes should feel 'weightless', to allow your body to move naturally.
Durable
It is important for your pair of shoes to cope with the demands of Parkour. They must not rip or tear easily during training. Be especially concerned with the soles. Instead of having glued on components, the soles should be in one-piece.
Adequate Cushioning
Adequate cushioning protects the joints and shock. However, be wary of too much cushioning. This can cause you to develop poor parkour techniques and encourage you to take unrealistic drops just because of the protection. Most traceurs recommend that Parkour shoes should be as close to feeling barefoot as possible because this allows you to be more sensitive to feeling your techniques (e.g. landing).
Good Traction
Traction and grip on surfaces is an important factor in choosing parkour shoes. Good grip allows you to move better and train with more confidence (as it eliminates the risk of slipping on most surfaces).
Recommendations for shoes
Vibram FiveFingers KSO (for men / for women)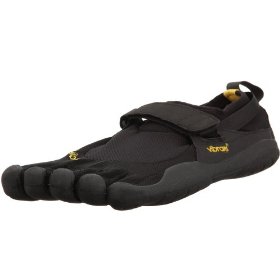 The Vibram FiveFingers shoes, are the best in terms of giving a natural bare-footed-feel of movement, which is an important factor to improve Parkour techniques. The soles are durable and have fair grip. The cushioning is minimal. We recommend Vibram FiveFingers to traceurs who want the most natural feel when doing Parkour. Click the links above to find out more about Vibram Five Fingers KSO.
Inov-8 Men's F-Lite 320PK Trail Running Shoe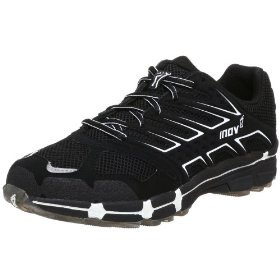 Inov-8 Men's F-Lite Shoes (Inov-8 unisex) are designed to complement the human body's biomechanics. It has midsole cushioning. Performance-wise, these are a good pair of parkour shoes in the overall factors. We recommend Inov-8 for beginner traceurs. Check out the links to find out more about Inov-8's range of shoes.
K-Swiss® Ariake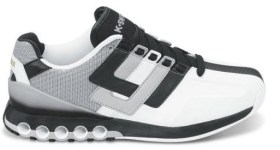 K-Swiss Ariake Stability Running Shoes are designed for parkour training. They are well-known for the quality in traction, light weight and cushioning. However, some traceurs complain that the thick cushioning may compromise a traceur's Parkour techniques. We recommend K-Swiss if the traceur has joint problems and needs the excess cushioning.
Go to W.O.N.'s store to search for Parkour shoes.
Logen L.