Khongsittha Muay Thai is a recreational thai-boxing gym in Lat Phrao district, Bangkok. They've hosted the famous Nak Muay Nation camp this year. And, they'll be hosting it once more in 2018.
Unlike recreational fitness-focused gyms, Khongsittha attracts serious practitioners of Muay Thai. The crowd that trains there consist of foreigners and middle/upper-class income locals. They also offer functional training, and have partnered with Spartan Race Thailand 2017.
Here's the review scorecard of Khongsittha Muay Thai in Bangkok. For my full experience, continue reading.
Khongsittha is a great place for serious practitioners and beginners of Muay Thai. Their training structure and trainers are superb. They also host one of the most popular training camp by Sean Fagan - Nak Muay Nation.
About Khongsittha & Matthew Deane
Khongsittha Muay Thai (visit website) was founded in 2013 by Matthew Deane, an Australian Thai actor and singer. He was active in martial arts and has trained in both Muay Thai and Shoto-Kai Karate.
Deane has also been an MC in the Muay Thai scene for years. Among the broadcasts he has worked for are: Thai Fight, Kunlun, Super Muay Thai, and Petchyindee. As a result, he is well-connected to fighters, promoters, and organizers.
In an interview with Vice Sports, Deane talked about how the Thai public had "zero respect for Muay Thai". It stemmed from it being seen as a brutal sport for poor people.
Khongsittha, thus, seems like his way to educate the public on the values that Muay Thai teaches. More importantly, it gives access to the middle and upper-class locals, who want to train but not necessarily do so in a traditional fighters camp.
Since Khongsittha's business model doesn't rely on sponsored fighters, I'd classify them as a recreational gym. Of course, one that is well-connected in the local Muay Thai fight scene.
How to Get There?
Khongsittha Muay Thai's website and Facebook page.
There are three options to make your way to Khongsittha Muay Thai. Here are the instructions on their website.
Address: 23 ถนนสุคนธสวัสดิ์ ลาดพร้าว กรุงเทพฯ 10230
Note to taxi driver: "ค่ายมวย คงสิทธา" อยู่ถนนสุคนธสวัสดิ์ ใกล้แยกโรงไม้ ซอยนาคนิวาส 48 ข้างปั๊ม NGV และ Mini Big C (ขึ้นทางด่วน ลงเกษตรนวมินทร์ มาทางสตริวิทยา 2)
Phone: 02-932-9911

Option A: Taxi Only

Tell the taxi driver to take the highway towards Ramintra and take Kaset Nawamin Exit.

Option B: BTS Skytrain + Taxi

Take the BTS to On Nut Station, then take a taxi from Lotus Shopping Mall via highway towards Ramintra and taking Kaset Nawamin Exit.

Option C: MRT Subway + Taxi

Take the MRT to Ladphrao Station, then take a taxi or motorbike from the subway exit (no highway) towards Ladphrao Soi 71 – Nak Niwat 48.

Show this Note to the driver if taking this route: เข้าซอย รัชดา 36 ทะลุหลังลาดพร้าววังหิน และออกถนนสตรีวิทยา 2 จะเจอ ค่ายมวยคงสิทธา ติดมินิบิ๊กซี ใกล้แยกโรงไม้

(from Khongsittha's FAQ page)
Do schedule your class in the early afternoon, as this gives you ample time to explore two night-markets that are relatively nearby – Hua Mun Night Market and Rot Fai Market 3 (Kaset Nawamin). You'll also avoid traffic jams associated with rush hour.
From the conversation with my taxi driver, Bangkok's evening traffic can begin as early as 4pm and last till 9pm. The most intense traffic is between 5.30pm and 8pm.
Fiasco of a Journey to Khongsittha… without a taxi (at first)
Wondering how I made my way to Khongsittha?
I was determined to get there without taking a taxi. One, I wanted to avoid the jam at downtown Bangkok. Two, I wanted to experience taking the khlong boat (canal boat) like a local, and then take bus 156 to Khongsittha.
It would have cost me less than a US dollar if things went according to plan. Find out what happened instead…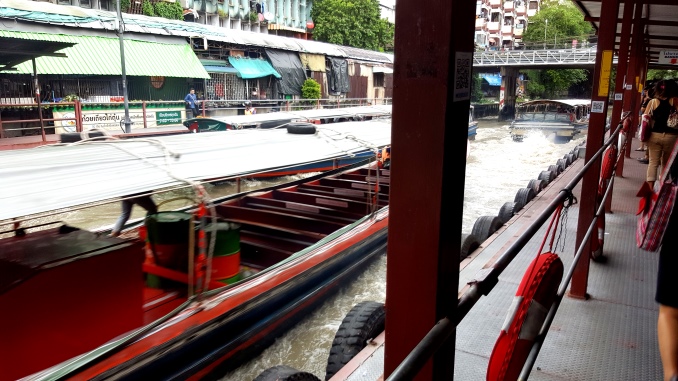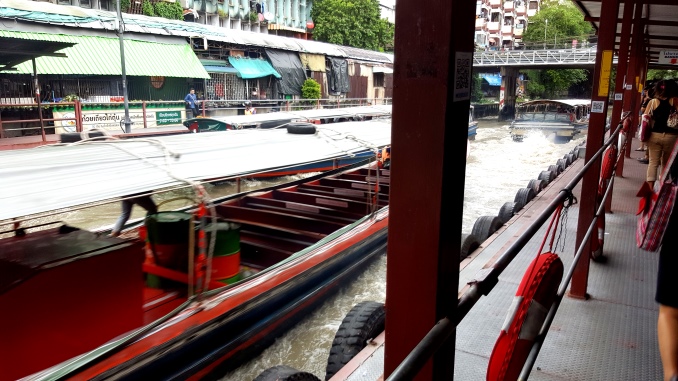 After I got off the khlong boat at Bangkapi Mall, I could barely hear the on-goings in my surroundings. I had been standing beside the boat's roaring engine for the past hour, and that was all I could hear.
The time showed 5:45pm and I had 15 minutes to get to Khongsittha by bus. Sure that I was relatively close by, I called Keith from Khongsittha, whose accent was strangely Californian.
"Hello, this is Logen on the line. I've scheduled a class via Viator at 6pm but I may be slightly late. Is it possible to push the training session to later?"
"Sure. We'll move it to 7pm."
"7pm? Is Khongsittha that far from Bangkapi Mall?"
"Not really. But it's peak hour now."
Experiencing Bangkok's Notorious Traffic
The moment I walked out of the mall, I was greeted by a moderate traffic jam. I cursed at my decision to be adventurous and totally forgo the easier route of taking a taxi.
Not wanting to be any later, I called for a taxi via my Grab app. I should have just taken the bus instead. It wouldn't have made a difference in my journey time.
Due to the language barrier, the driver took 20 minutes to find me. I was then stuck in traffic for 1.5 hours. During the journey, I rang Keith twice to reschedule the class. He suggested that I moved the class to the next morning.
I politely rejected his suggestion… I was already en route to the place for the past 2.5 hours.
Ironically, I did manage to avoid the notorious traffic jam at downtown Bangkok, only to get into another one after I got off the canal boat.
3 hours. That's how much time it took because of my convoluted route to get to Khongsittha.
I'd have reached there in 15 to 45 minutes if I just took a taxi from the start (at 4.30pm), or used the routes suggested by Khongsittha.
Training Experience at Khongsittha Muay Thai (Lat Phrao)
Reaching Khongsittha After Dark
When I finally reached Khongsittha it was already dark. After eyeing the huge golden statue of a nondescript Muay Thai fighter at the entrance, I walked to the front desk to sign in.
With some time to spare, I walked around the premises to take some pictures. Seeing the murals of nak muay demonstrating various thai-boxing techniques gave me chills. It reminded me of the Muay Thai Live performance.
At 8pm, it was clear that I was the only student. In hindsight, they must have opened a slot at that time just for me.
In any case, I got to train one-on-one with three different trainers.
Trainer 1 – Warm Up & Shadow Boxing
The session began with the typical Muay Thai warm-up – running and jump rope.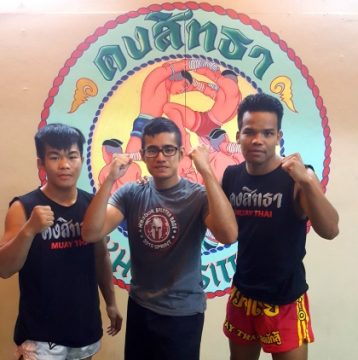 Then, the first trainer demonstrated various strikes and kicks. After each demonstration, I copied what he was doing.
His way of correcting my technique was through show-and-tell (in simply-worded phrases).
As someone whose base martial art was Aikido, my evasive footwork and stance were creeping in. I was standing in a way that was not conducive to kicking quickly.
Talking about Spartan Race with Trainer 1
The training was paced with minute-long breaks after a set time of training. This helped me retain the trainer's feedback, while I caught my breath.
It was during these breaks that my first trainer noticed my Spartan Race shirt. He was enthusiastic in telling me how he and his Khongsittha colleagues will be joining their first Spartan Sprint in July.
Trainer 2 – Pad work & Sandbag
As we moved on to pad work and sandbag training, I was corrected many times on my stance.
Especially after kicking, I withdrew my kicking leg behind the front leg (the typical Aikido defensive stance). And so, my challenge was to rewire my stance to make it optimal for offensive strikes.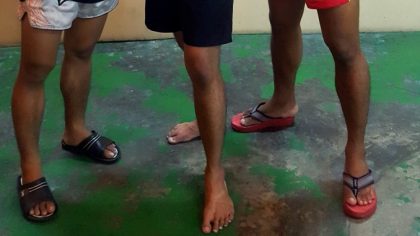 That said, my second trainer articulated his feedback to my mistakes the best. After all, he had lived in Perth for some time and spoke English fluently.
He had observed that my jabs were not aligned optimally, which could result in wrist injuries. He also noticed that my jabs weren't retracted swiftly enough. It was as though I was doing straight punches at Aikido as an uke – a lot of conscious body weight channelled through the punch. In his words, my punch felt more like a physical push.
Other than that, he helped me realize that I had been tensing up whenever I struck. What I needed to do was to relax and keep the body loose.
So, I was deeply grateful for his series of feedback. This was the trainer who had the least fights under his belt (17 fights). But, he was only eighteen-years-old.
Trainer 3 – Padwork Combos
The third trainer was pretty cool. It was with him that I got a more intensive pad work session.
Actually, I did combo pad work with all three trainers, with them shouting the various strikes and me executing. Having very little experience with striking, my coordination was honestly shit. But, I'm getting better.
Back to the Trainer 1 – Conditioning Exercises
Finally, after the pad work, I returned to the first trainer.
We ended off with conditioning exercises with push-ups, kettlebell swings and squats. It may be because I was the only student there, but he made sure to go at my pace.
After my injury, I had toned down my training intensity and consequently lowered my stamina. So, I took the trainer's change in intensity as a positive sign.
Vibe, Facilities & Trainers – Summary of Assessment
Vibe
Welcoming and friendly for beginners and all levels
Feels like an actual fighters gym, though it's recreational
Facilities
Not air-conditioned
Display timer that times activity and breaks
Clean gym mats, sandbags and pads
Toilets: Clean with shower facilities
Lockers with locks provided for your gym duffels
Cost
Khongsittha Muay Thai distinguish their Muay Thai sessions into two types: Muay Thai for Fitness, and regular Muay Thai
Only regular Muay Thai sessions include advanced technical instruction and clinching. It also costs more.
If you're serious about training, I'd recommend training there for a week in regular Muay Thai.
Trainer 1
Speaks some English
No problems with communication and teaching
Adjusts intensity to cater to each student
Friendly; happy to talk about Spartan Race
Corrects stance, coordination and technique issues; corrected me on the aim of my side kicks to prevent injury from kicking the sandbag.
Trainer 2 – Boss
Fluent in English
No problems with communication and teaching
Adjusts intensity to cater to each student
Friendly; makes conversation but I don't remember owing to the intensity
Corrects stance, coordination and technique with greater detail; corrected me significantly on jabs.
Trainer 3
Able to speak some English
No problems with communication and teaching
Adjusts intensity to cater to each student
Friendly and professional
Corrects stance, coordination and technique, and was accommodating towards combo pad work
Opening Hours
Opening hours: 10:00 to 22:00
Pros & Cons – What I Liked
Pros of training at Khongsittha
So, here are some things I liked about Khongsittha Muay Thai…
The training pace was just right, and the conduct of it was smooth
Khongsittha Muay Thai timed the session for activity and rest breaks. This helped to pace the training and gave time for the trainee to reflect on the feedback.
The training also felt less haphazard, unlike other gyms. There was a sense of direction in the training structure.
Awesome trainers who actively corrected mistakes & adapted to the trainee's learning style
The trainers were friendly and make an effort to correct you. They also allow you the time to adjust to the feedback.
This is not true for all Muay Thai schools. Due to the language barrier, some trainers find it hard to correct foreign students (and may not do so).
What's more, with Muay Thai becoming popularized as a fitness activity, some trainers don't correct foreign students on the wrong form. The reason is simply because most of these students prioritize fitness over fighting technique.
Khongsittha trainers aren't like that. They care if you are executing the techniques right, and they are able to communicate in English.
Different Trainer for Each Segment of Training
Different segments of the training were conducted by different trainers. This exposes you to different styles of combo pad work.
Not only that. When you have three trainers giving the same feedback in their own way, you retain the message better. It reinforces important training concepts.
Welcoming to People of all Levels & Friendly Training Environment
Many gyms proclaim to welcome people of all levels. However, the quality and enthusiasm of training often vary among an advanced nak muay and a complete beginner at some gyms.
At Khongsittha Muay Thai though, They really do mean it when they say they welcome people of all levels. My experiences there as a beginner was awesome. Farang nak muay (Foreign fighters) like Aaron Jahn have also rated it rather positively.
Well-connected to the Local Muay Thai Scene (including fighters, fight promoters, broadcasts and more)
Through their founder and trainers, Khongsittha is well-connected in the Muay Thai scene. This is an advantage for freelance fighters and people who want to train in special camps with notable people in the scene.
Cons of the place
Regular Muay Thai Training Includes Accommodation as a Package
There are two types of Muay Thai training offered at Khongsittha:
Regular Muay Thai (includes running, clinching, sparring, and technical drills)
Muay Thai Fitness (NO running, clinching, sparring and technical drills)
The price for training in regular Muay Thai comes with accommodations, and is thus priced higher. After deducting for private room costs, it seems the cost of training is reasonable. My only issue with it is not being able to get a non-accommodation regular Muay Thai option.
If you want training without accommodations, only Muay Thai for fitness is available for 450 baht (US$14.56). Alternatively, pay by the hour for private training at 1000 baht (US$30.13).
Not located in Downtown Bangkok
As mentioned, Khongsittha is not located near the Skytrain or Metro network. To get there, you'll need to take a 15 to 30-minute taxi ride.
Who Should (and Shouldn't) Train at Khongsittha?
If you're visiting Bangkok primarily for Muay Thai, consider training at Khongsittha.
Their trainers, really, are excellent and on point with their feedback and patient. The place is friendly to all.
And, the gym is well-connected within Thailand's Muay Thai and fitness scene.
So, if you want to pursue Muay Thai seriously for a few days, weeks, or months, while not going completely hardcore, this is a great place to do it.
Complete Beginners
If you're a complete beginner, Khongsittha is the place to train at.
Among all other gyms, Khongsittha is the only one that corrected me multiple times. The trainers all articulated and demonstrated what I was doing and explained what I could do to improve.
Not once did any of them get frustrated.
I can't emphasize how much I learnt when training at Khongsittha, despite it being the Muay Thai for fitness package.
Here are their regular Muay Thai packages; it covers advanced techniques, clinching, and includes a private room for you to stay at. Without getting a package, you'll only be able to join Muay Thai for fitness.
Muay Thai Practitioners interested in Techniques
Recreational gyms tend to attract locals and tourists who only train for fitness and fun. But, not at Khongsittha.
The place attracts a crowd that seems committed to actual Muay Thai; not the fitness variant.
So, if you're travelling to Bangkok just for Muay Thai, train there twice daily, for at least a week, with this 7-day training and accommodation package.
Prospective Freelance Fighters
Because of Khongsittha's connections and their superb trainers, check them out before making a decision. I can't make a solid recommendation here because I'm not an independent fighter.
But, they do have an active team of fighters training at Khongsittha!
Who Should Train Elsewhere?
If you're a tourist who's unwilling to get out of downtown Bangkok, consider other gyms within the city centre. Also, assuming you're an independent fighter on a budget, there are fighter gyms that are cheaper to train at.
Bottomline & Conclusion
Khongsittha is a great place for serious practitioners and beginners of Muay Thai. Their training structure and trainers are superb. They also host one of the most popular training camp by Sean Fagan - Nak Muay Nation.
Although Khongsittha's regular Muay Thai training sessions can only be bought with accommodation packages, their quality of instruction makes it worth it.
Check out their Muay Thai packages. It combines twice-a-day sessions with private accommodations at Kiatthada House & Resort (located beside Khongsittha). This saves you the hassle of travelling for training daily. Also, with the package pricing, the cost per training session is significantly lower.
Definitely consider training there for a couple of days.
One session of Muay Thai Fitness + Phad Thai at Reverie Cafe (via Viator)
If you'd like just one session of training, I recommend walking in for their Muay Thai Fitness class. It's cheaper than the Viator package, which includes a delicious phad thai meal from a mid-scale cafe beside Khongsittha.
If you'd like some insight into their lengthier training programs, watch this space for Owen Cooper's interview. Unlike me, he has trained longer and participated in Nak Muay Nation.
Khongsittha Muay Thai Class + Accommodations

Book your Muay Thai + Private Room package with Khongsittha right now.

Pick either 7 or 29 days…