Where did the ninja live? What were their houses like? When you consider what kind of people the ninja were and how they functioned in society, one has to wonder if there were special set-ups in their homes to protect their secrets. While pondering these things, I was fortunate enough to be introduced to a newly created Ninja Trick House in Shinjuku, which is operated by Tomoyuki-san, a friend of Rikiya-sensei from Ninja Club Shinjuku Gym.
The Ninja Trick House is a hidden gem in Kabukicho, within walking distance of the Robot Restaurant, the Samurai Museum, and the Ninja Club Shinjuku Gym. You will have to look for it, because the sign out front isn't going to attract much attention. But after you find it, there's a short ascension up three flights of steps to a hallway decorated in torii gates. At the end is a small mural dedicated to ninja.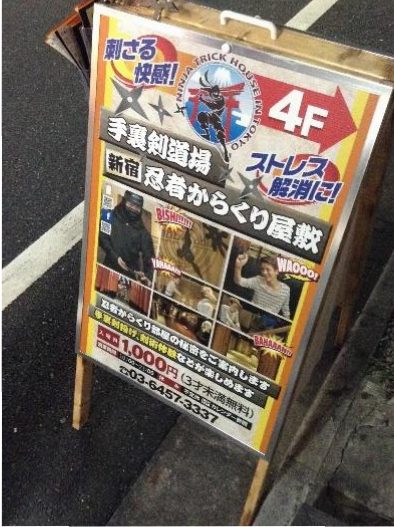 You will find the reception area to be small and full of Naruto artwork. Do not let this display fool you into thinking this is not going to be a serious 20 minute tour. The aim of the ninja house is to be both simultaneously amusing but educational.
Differences in the role of ninja and samurai
A quick turn about in the reception room shows you to be beginning, where a movie–that runs in a variety of languages. Here, the goal is to explain in a succinct manner how the ninja are different from samurai.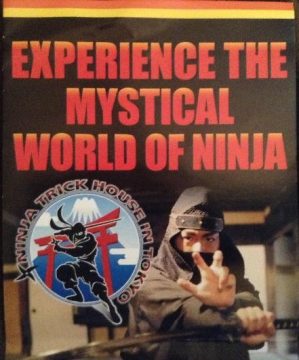 Some of those differences are:
Samurai fought for honor; ninja did not seek out battle.
Samurai used swords and practiced martial arts. Ninja didn't necessarily need physical conditioning.
Ninja didn't have a code during battle. Survival was prized. So if that meant attacking someone from behind or throwing sand in an opponent's eyes, they would take that chance.
Ninja were minimalists and functionalists. For example, where a samurai's scabbard has a rounded end, the ninja scabbard is pointed. You may immediately think, "Oh, that's to poke people, right?" No! The pointed end meant they could prop up the scabbard against a wall, step on the hilt, and climb to wherever they needed to go.
Even the sword shape was different. A samurai sword is slightly arced to maximize the damage. On the other hand, the ninja sword is straight and a little heavier. We can attributed this to the need for lodging the blade into trees and buildings for scaling heights and general defensive postures.
Of course, you don't discover all of these things immediately.
Finding the hidden facets of the ninja
You wander around the first room, which has four hidden facets related to ninja. These are totally not obvious. Seriously, I'm usually a whiz at finding things that are out of place… but man, it was a challenge. Not going to give a lot of details here and ruin the fun for you.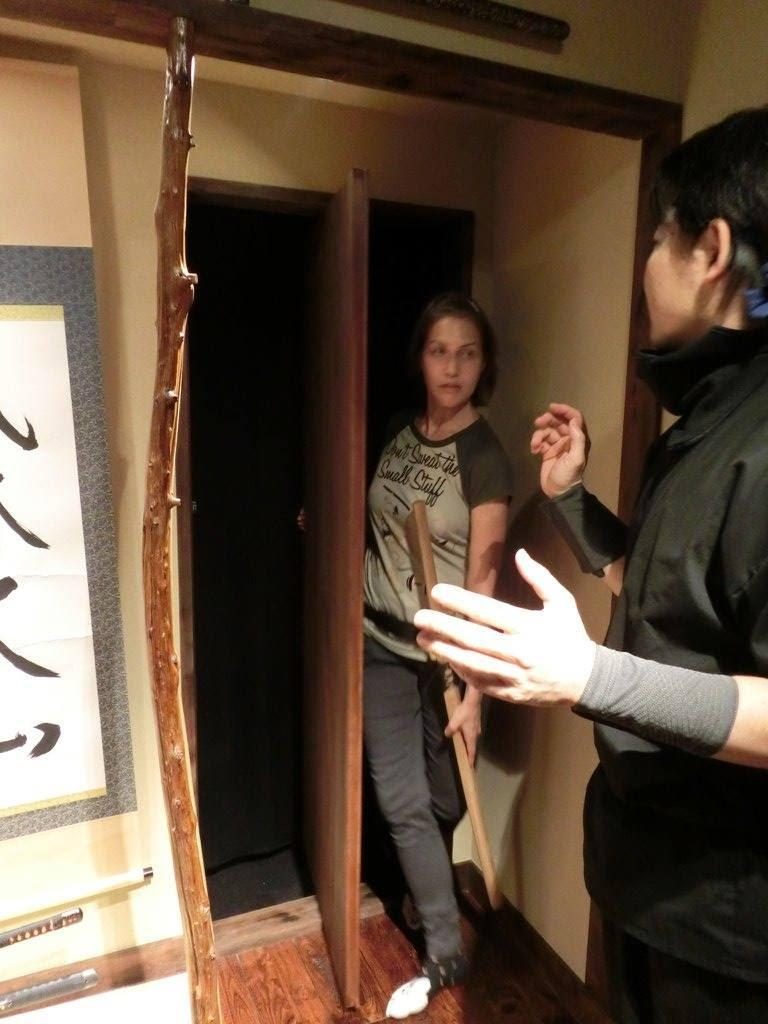 I first opened up a small cupboard only to have a dummy head meet me. I jumped back in shock, which gave Rikiya-sensei and Tomoyuki-san a good laugh. Next, I found a box of golden plates underneath a panel. Then there was a tatami mat that flips up to protect from flying objects. Finally, the hidden sword in a rather incongruous addition to the room. As you find these things, Tomoyuki or the ninja guiding you through the tour explains what these things meant and how they are historically important to ninja.
You then head into a secret passageway that opens up into a dojo. There's a dummy dressed like a samurai, some swords, and wall covered in targets. This is where swords and how the ninja used them are explained. At this point, you can do some sword practice. I was allowed to practice the unsheathing and attack flow a couple of times. Feel free to really get into socking it to the punching bag too.
Shuriken Training while kneeling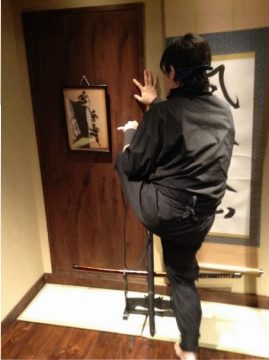 The final piece of the tour is all about shuriken. Unlike previous experiences, you are made to kneel. Back in the day, the ceilings in Japanese buildings were much lower. This meant that ninja might not be standing when they fought back against enemies. I thought for sure this would harder, but I somehow hit each target. I even managed to get one shuriken between two bamboo reeds and into the back wall… to which Rikiya-sensei commented, "That alone takes some skill."
When you are about ready to finish, you run through a quick ninja meditation. Tomoyuki showed me one of the gestures where the right hand is in the sword shape, and the left forms the sheath. However, the pointer and thumb come together over the right middle finger.
With that, the tour is finalized. For me, I got a chance to chat with Tomoyuki-san a little and then was given all of the shuriken baskets for throwing. It was great fun.
Thoughts
Short, simple, yet somehow incredibly informative! The Ninja Trick House is a great delight in Shinjuku for children (over 3) and older folks alike. You don't need a whole lot of time, and the interactive activities are entertaining. I loved how learning is mixed with amusements, especially the puzzle room. You can take loads of pictures too, making for awesome memories.
No matter what you seek when it comes to ninja–the myth, the reality, or the in between–you can learn all about a ninja's bag of tricks at the Ninja Trick House in Shinjuku, Tokyo.
Getting to the Ninja Trick House in Tokyo
Ninja Trick House in Tokyo (手裏剣道場 新宿忍者からくり屋敷)

Daiichi Wako Bld. 4F 2-28-13 Kabuki-cho, Shinjuku-ku, Tokyo, 160-0021

Opening hours: 10am to 9pm (last visitors at 8.30pm)

Website | Facebook | Check Voyagin for "Ninja Trick House" booking